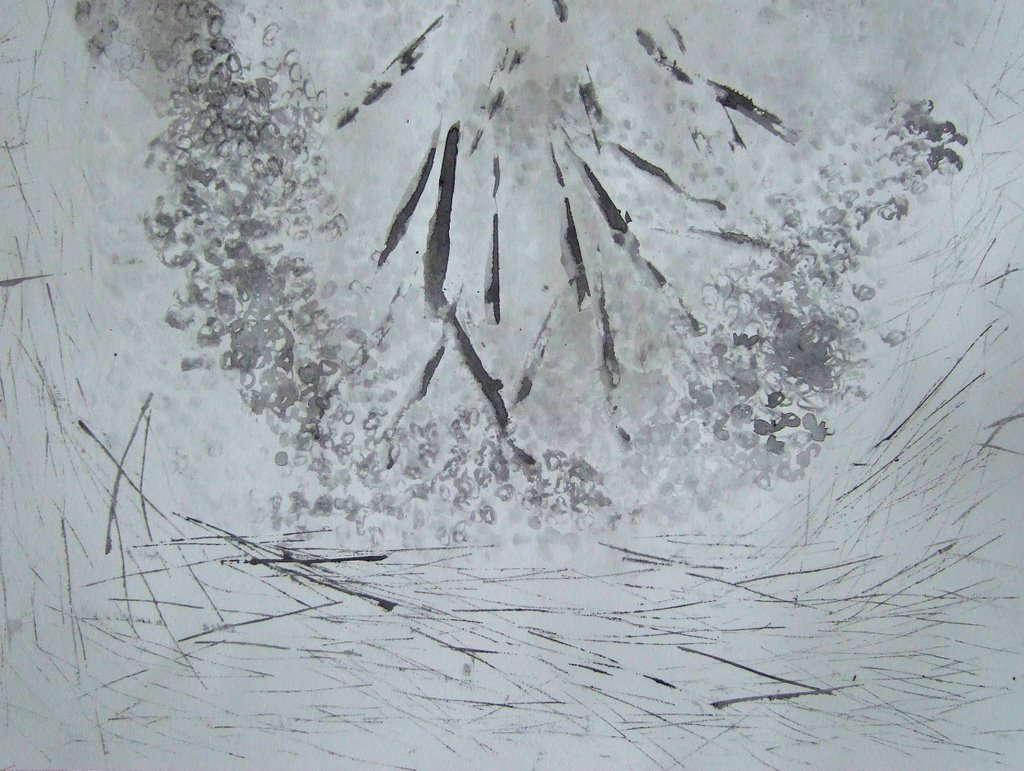 Winter feeling, Chinese ink on paper, 27×37, 2010.
On Ko Phangan island we have our favorite spot, small and cozy fisherman beach, where we spent sunsets from time to time. There is old fisherman boat on the beach, and it looks like nobody care about it. One day we saw a wonderful sunset and the boat transforms into magical colors. I made the picture and later painted it.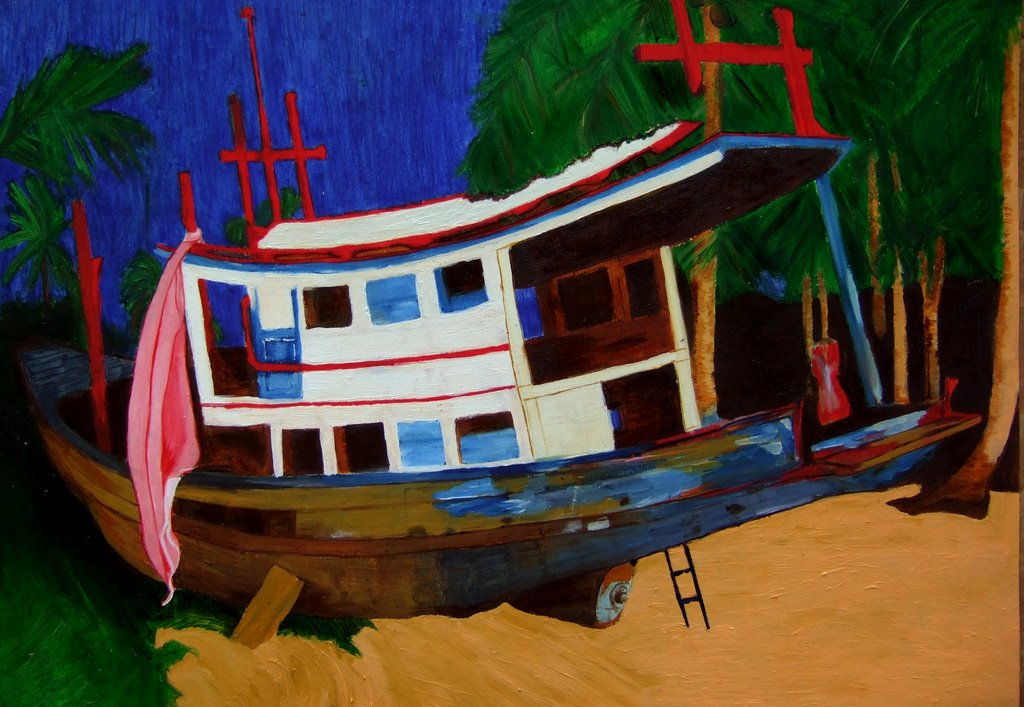 Fisherman boat on the beach, oil on paper, 27×37, 2010.
Today was a last day of April month, pretty good month for me and Dima. I like April month, there is something special about it, but it always something special.
Today I made Teddy Bear by my hand and gave him a name, meet April!
Because I`m still learning how to do a teddy bears, so April is made from cotton fabric and sewn by hand.
Actually it is very easy to make a teddy bear, if you have any experience with sewing, making your own teddy bear will not take a lot of time, but you definitely will need a patience.
If you liked April Teddy Bear and would like to do it by your self, fell free to download patter (for free, no charge, my friends) and follow easy instructions.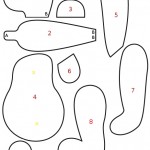 How to sew a Teddy Bear.
First you need to print the pattern (size of A4) and cut out the pieces. Put your fabric face down on the table and transform pattern pieces on it. You should have two pieces of head (Detail N1), one piece of head gusset (Detail N2), four pieces of ears (Detail N3), two body pieces (Detail N4), two inner arms (Detail N5), two paw pads (Detail N6), two outer arms (Detail N7), four legs (Detail N8) and two food pads (Detail N9).
Match two head side pieces together and sew from the tip of the nose down to the neck opening. Match head gusset and sew from point A to points B. Match two body pieces and sew it together, but leave one inch on the top. Match and sew ears. Match one paw pad up to the corresponding inner arms and sew them. After that sew inner arm with correct outer arm (do double check before sewing) but leave one inch of arm (close to the neck) to turn and stuff. Match legs, be sure that each leg has one outer let and one inner leg. Pin and sew them with food pads, and as for arms, leave one inch.
Turn all pieces right side out, and stuff all details.
For making eyes you can use ordinary buttons or, if you have one, special glass eyes. Use long needle, long enough to sew through the head and fix the eyes on the position. With wide thread and long needle do only one stitch for one time. The end of your thread should be on the other side on bears head, coming from eye to the neck. Pull off all your ends and tie with a strong knot.
You can stitch nose and mouth in different ways, but for April I prefer to leave as it is.
To join body, head and limbs professional teddy makers use different accessories. But I, as a beginner, use the same technique, as I used for placing eyes. Join head and body and carefully sew them together. Take a wide thread a long needle and join arms and legs before closing open seams. When you arms and legs on their places, you can close the seams with accurate stitching.
Join the ears and you teddy bear is ready! Enjoy!
Next time I will do a step-by-step lesson with picture "How to make a Teddy Bear", so stay tuned!


I always loved to do something by my own hands. Since I was a girl I loved sewing, doing applique and creating somethings with all stuff I found around.
I`m older now, but still can not stop creating new hand made things.
Here is I creating the Box with Pretty Things. The first pretty thing will be a Romantic Lamp, made from rice paper and bamboo sticks.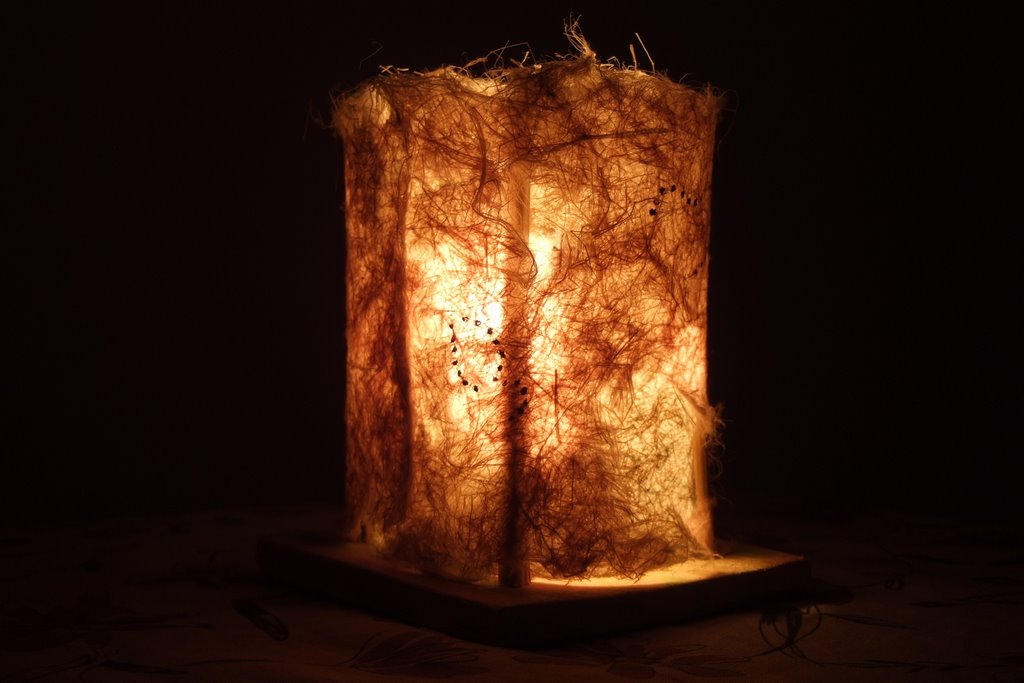 Hand made rice paper is very popular in South East Asia, and specially in Thailand. The paper is made from rice flour and dry flowers and leafs.
For making lamp shade I used two of my favorite colors: pastel blue and pink. To hold the shade above the bulb I used four bamboo stick that I took some time ago from local burmese restaurant. The socket, the bulb and wood stand I bough in local "everything for your house" shop. The paper is Ok with 25W, but not more.
It looks pretty nice I think, and it provide very mild light in my bedroom, just what romantic couple need.
Paula Sanz Caballero works as an illustrator, but without using pencils, brushes and computer. She stitching her illustrations.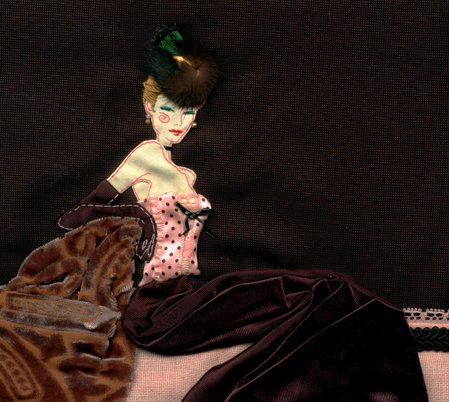 Paula shows special interest in the human figure, a key component in much of her work. She is highly concerned with anatomy, which she has studied in depth, movement of the body and its way of expressing itself.
She starts with a scientific basis for drawing the body. Depending on what she wants to express in each piece, or on the composition, she then reduces the elements to their most basic lines without losing realism. She also uses this working method for the architecture, landscape and objects she represents.
The result is a series of works that combine attention to detail with sketching and stylizing. The compositions rely on few features that are often simply defined through color and different textures.
Technically, the basis for her work is the drawing, which acts independently or in combination with diverse media. Painting, collage or work with textiles, which has come to characterize much of her work, and has also helped her explore the field of fashion and design.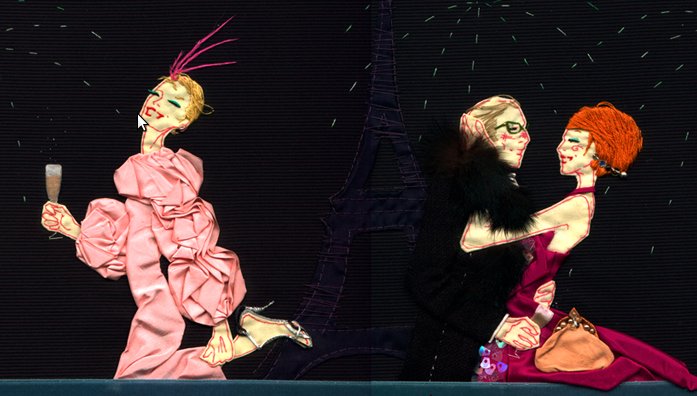 Her personal works delve mainly into the subject of personal relationships. Before a sophisticated and luxurious backdrop, her stories tell us of the most primary human feelings.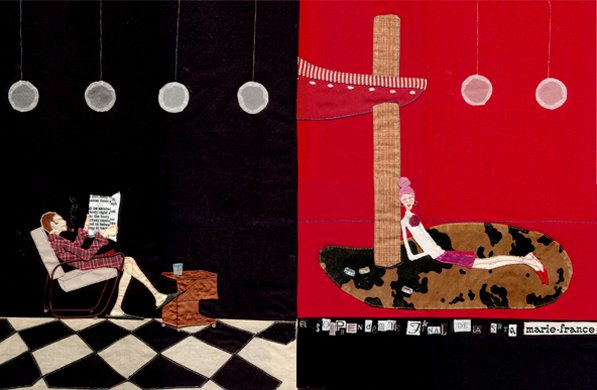 Paola uses her skill in form and technique, her personal attractive esthetic, full of content and expressiveness, in her private commissions. This generates unique works that are sought by clients around the world.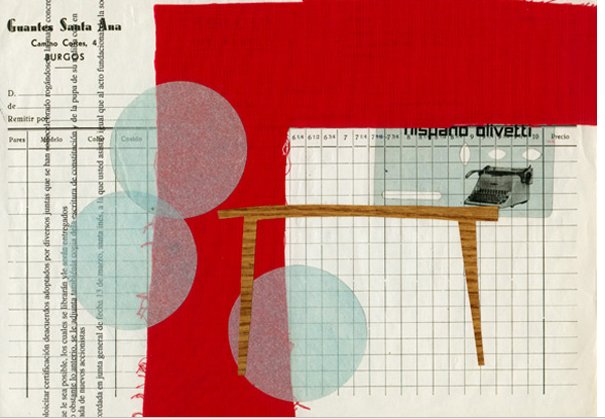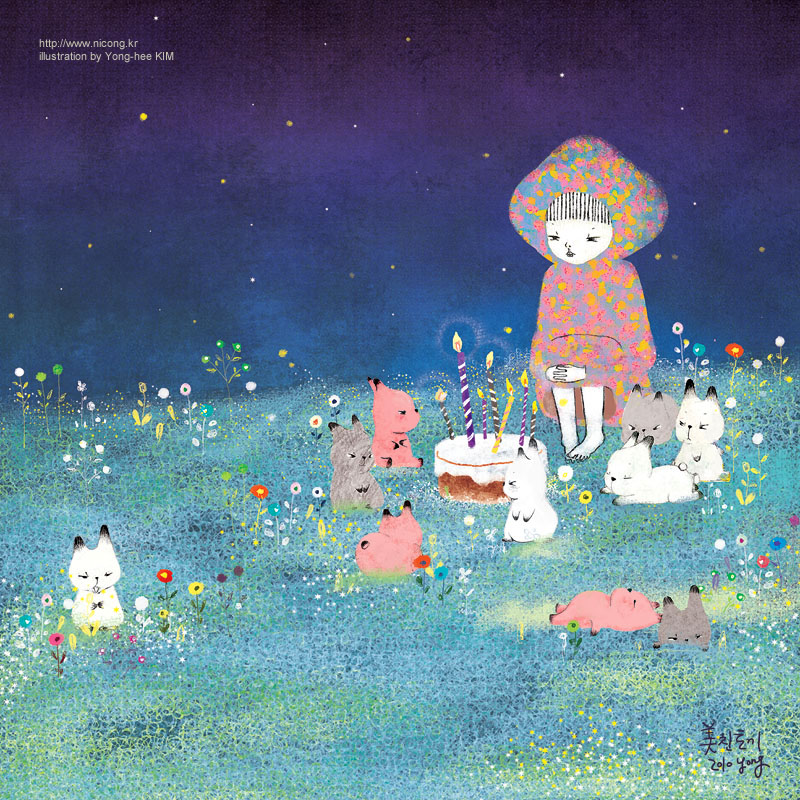 I failed in love for Mong-yi and crazy rabbit at a first sign the characters was created by Korean artist and illustrator Kim, Yong Hee. Her art is so naive and illustration is so beautiful, that I could not stay away and not to post about her.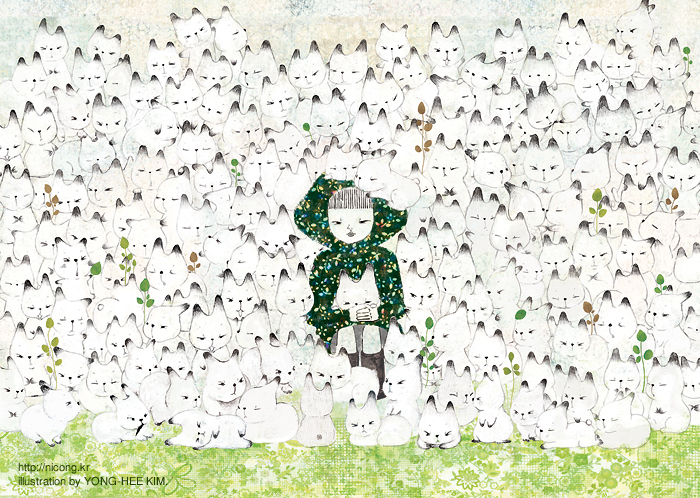 It feels, that this wonderful creatures came from the dreams and would like to take you there.
From her childhood, the only hobby of Kim Yong Hee was water-color painting. By drawing pictures on the sketch book, she naturally wanted to be a character designer.
Now, she wants to be shown as an illustrator not a designer, and works for commercializing illustrations such as T-shirts design, art products.
Her favorite character – Crazy Rabbit is an reflection of herself. Because her nickname was a rabbit, she gave it several meanings and recently, she is making her own style with it.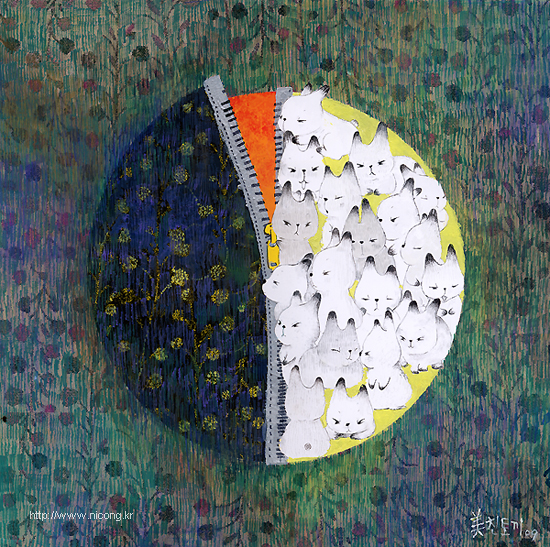 Kim has her personal web-site – http://nicong.kr/ and blog http://blog.naver.com/nicong79 where her recent illustration can be find.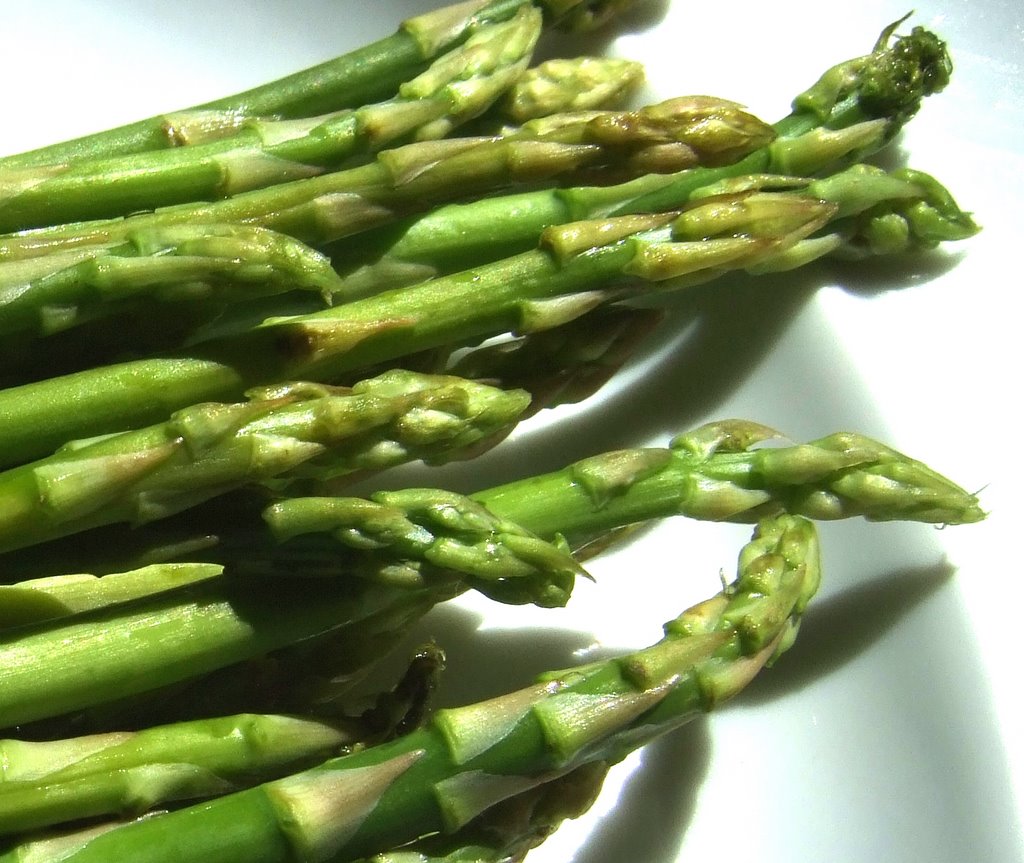 I never liked asparagus, maybe because the Russian name sounds not so pretty. I tried it only once in one Laos restaurant and like the taste.
Yesterday doing shopping I saw this vegetable and can not walk away. I had no idea how to cook it, and prepare it by my own. I was surprised how asparagus easy to cook and how it great to eat.
Not only because it is delicious. Asparagus is low in calories, contains no cholesterol and is very low in sodium. It is also a good source of vitamins, calcium, magnesium and zinc, and a very good source o fdietary fiber and protein.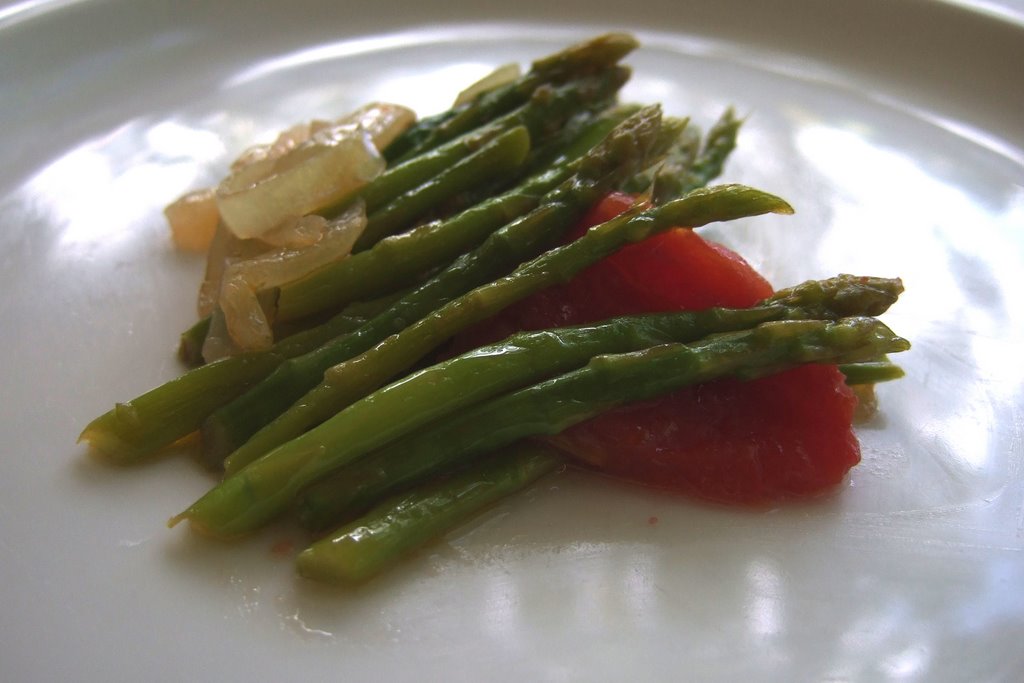 Easy recipe of Fried Asparagus with Tomato
450 g of fresh asparagus
1 onion
4-5 tomatoes
salt, seasoning
Heat enough oil to cover the bottom of a large heavy skillet over medium to low-medium heat. Fry onion untill it turns to golden color, add fresh green asparagus ans fry for a nex 2 minutes. Then add tomatoes, salt and seasoning (for your own taste, I put just a little bit), keep on heat for a next 3-4, then add some boiled water and leave for a one minute more.
Ready!
Asparagus taste great as a side dish with chicken too.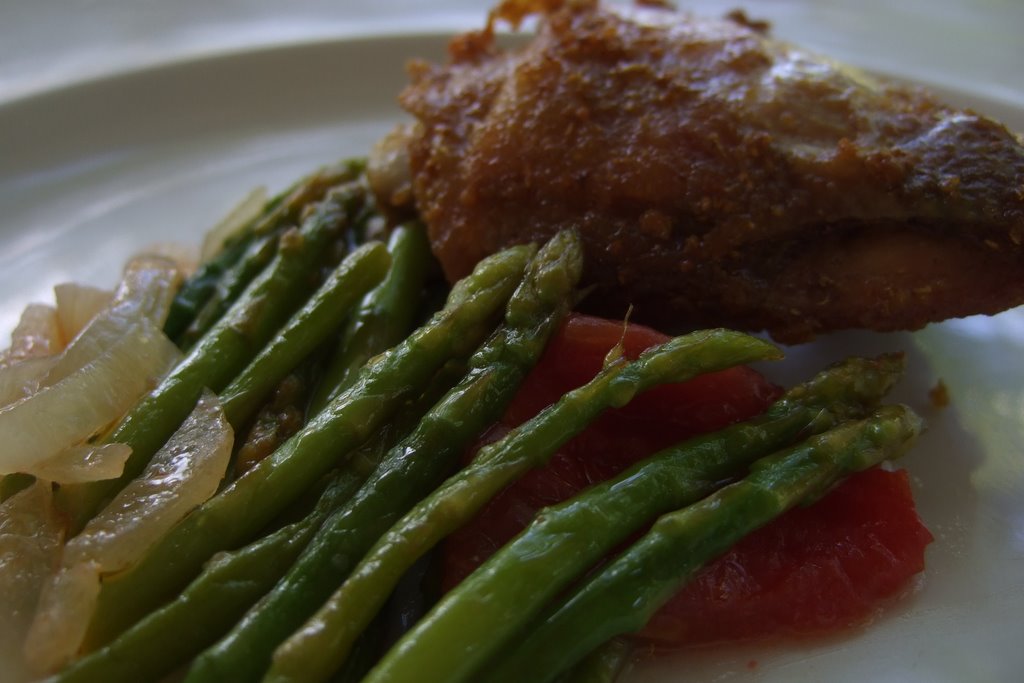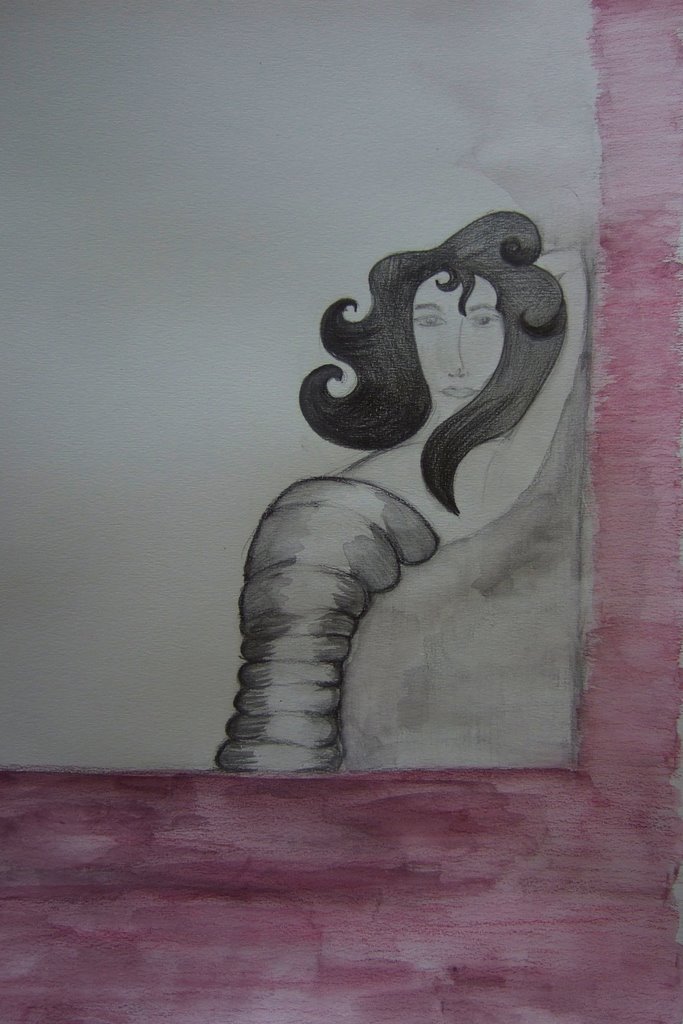 Attractive woman staring at me. I can`t see her eyes clear, what she is trying to say?. Maybe she asking me would I walk her somewhere, or not…
Wanna walk, Illustration
watercolor pencil on paper, 27×37 sm, 2010.
Yesterday was beautiful sunset on Ko Phangan.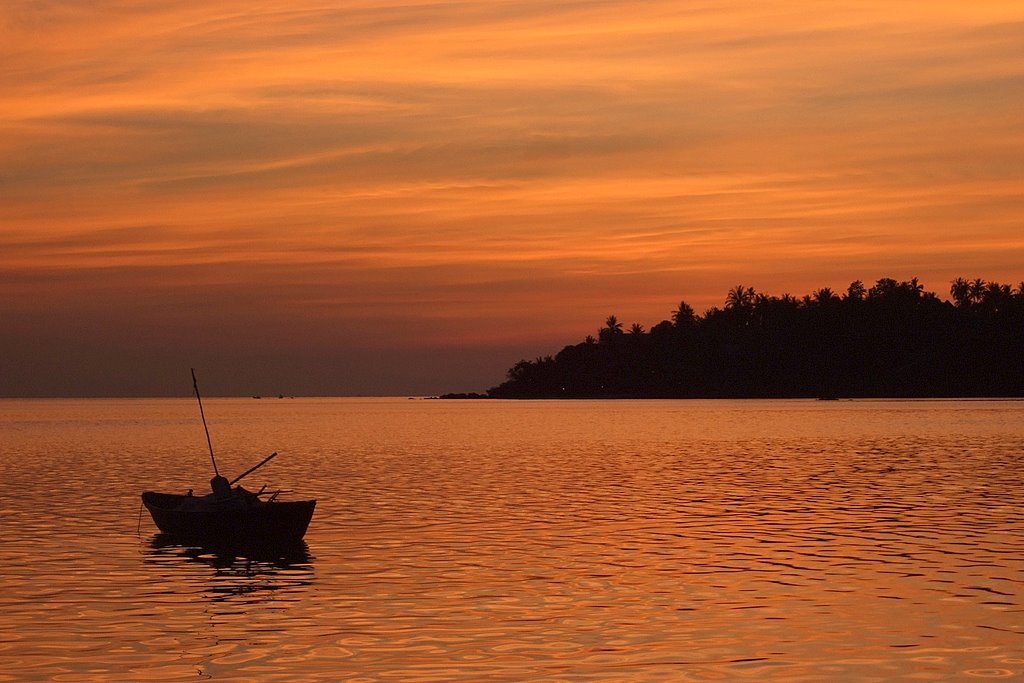 I was thinking about to make a cookies for a few days, but every time something disturb me from baking. Yesterday I baked them for a first time (I never baked the cookies before) and I still admire how easy it was and how testy the cookies are! The most important thing for me was that the cookies are very healthy, made from fresh eggs, finest oatmeal and little of sugar.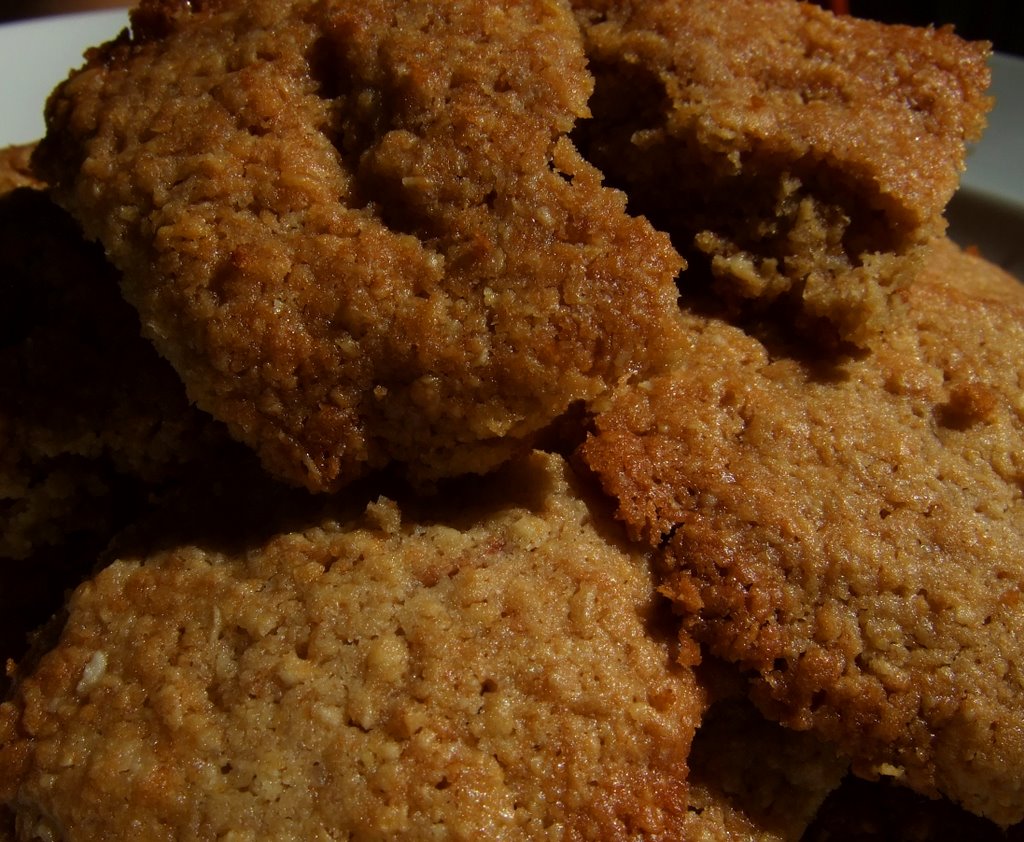 For 45 medium piece I put:
300 g of all-purpose flour
250 g of sugar
250 g of crushed oatmeal
250 g of butter, softened
2 eggs
1 spoon of baking soda
3 spoon of cocoa powder
As extra you can add some honey, raisin, nuts etc.,
I put frozen butter to the oven for a 10 minutes to be softened. Oatmeal I crushed in a blender.
With soft butter (it can be a margarine as well) I mixed sugar, eggs and flour with soda. Then added oatmeal and some cocoa powder.
Divided into small shapes and put 2 inches apart on cookie sheet. Baked the cookies for a 15-17 minutes in 200 C.
Easy recipe and grate taste.
I loved them, Dima loved them too!
Yummy and Crispy!